Thank you all for the birthday wishes and all! This week was, as predicted, much better than the last. Things are going well. Work is being done. The ward is thriving and the stake executives are impressed with all of it. We have a new ward mission leader, and two new missionaries in training in the district. I haven't met Elder Reynolds, but Sister Robertson (serving in Three Rivers) is from Holiday, Utah and she is ready to learn and to get the Lord's work done.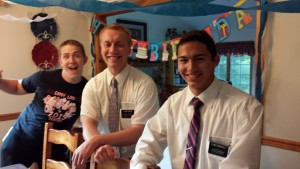 I'm probably going to keep this one short, but I thank everyone back home for love and support, because I truly do feel it. Even if it's something as simple as wishing us well within your heart, I promise it is felt because even something as simple as that is a prayer in your heart and Heavenly Father hears and answers all prayers.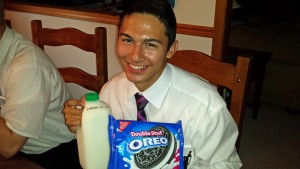 On Thursday was my birthday, and the Bishop's family put together a lovely Puerto Rican dinner for us using instructions from my mother, because apparently Sister Peterson had corresponded with her. o.O Anyway, she also made a tres leches cake and printed out pictures of my family for me and gave me Oreos and milk! Holy cow how could I NOT have a good birthday with people here taking this much care of me to make sure I have a good day?
Lastly, we met the Martinez's who are a lovely family whose son Micah used to serve here and was then known as Elder Martinez (obviously). I only knew them for three days, but Micah dropped by on Friday at our apartment to say hi, and we came down to talk to the whole family for a bit, and then Sunday they were at church and we had dinner with them and Brother Davis who they were staying with, and now they are gone and I already miss them. It's crazy how so much love and kindness can be wrought through the gospel and through Christ, and I can only imagine what that will be like in heaven.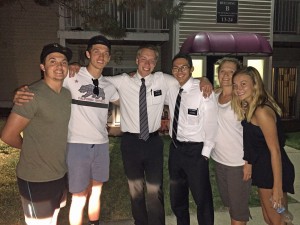 Stay awesome my friends and family, and I will report to you again soon!
Elder Breinholt
P.S. Interviews with the Mission President are this Saturday so wish me luck ;P