We've almost done it: Three months in the field, and finishing off The First Twelve Weeks training. Honestly, it's a little scary, because I have no idea what's going to be happening to me by next week. Chances are that I am staying here in Sturgis (as it would be crazy to throw a missionary who just got trained somewhere into a brand new area), but I don't know for sure whether Elder Yadon is leaving, or who my new companion might be if he does, or if I will actually be a trainer, as is possible after the first three months. Heck I could even end up as the district leader for all I know! I believe we get the calls on Friday, so we'll see.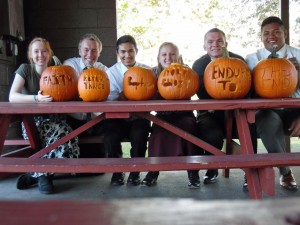 I traded off with Elder Reynolds, another Elder in training in Coldwater, one transfer younger than me. So sure, just throw two trainees together in a town neither of them knows very well, right? It actually went very well, and through constant prayer and diligence, we found more people who were willing to hear the gospel then either of our companionship usually find in a day. It doesn't matter how inexperienced you are at something, so long as you rely on the Lord. He goes before us, and he leads the way, and through listening and following, we are blessed, and everything falls into place. 🙂
Oh by the way, this sunday we are having another baptism, and her name is Whitley. She is part of a part-member-family, and has two kids. She has made major, major progress in a short amount of time, and made the commitment to be baptized on Nov. 1 only two weeks ago. That was her choice, not even us being pushy 😉
I send my love and prayers out to all of you. Take every opportunity you can to serve others, and the world will be better for it.
For anyone who wants to send anything, supposedly it is best to send it to the mission office this week as it is possible I could be in a different area next week.
Sincerely,
Elder Breinholt