Hahaha hello dear friends and family!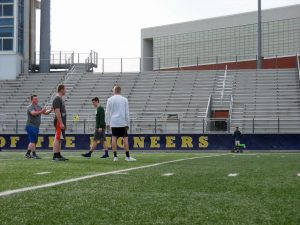 You all probably saw the title of my email. And I bet you thought I was talking about myself! Nope. Elder Strauss. We starting our new event with the Grand Valley Elders: Investigator Basketball. After the first 30 minutes, before everyone had even shown up yet, Elder Strauss had managed to roll his ankle and tear a ligament causing severe pain and swelling. We ended up taking him to the emergency room because everything else was closed by that time. Needless to say, he is now on crutches and will likely continue to be so for about a week, and his full recovery will take 5 to 6 weeks, as planned.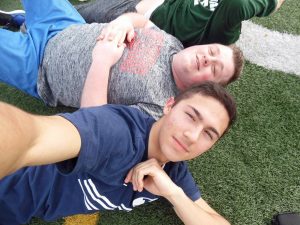 The work has slowed down a lot because of this. We can't really even go and proselyte. So we are dropping investigators like flies, and are not finding more people to teach. It's a little sad for me, especially since I always like to be working on something but we come back pretty often during the day so Elder Strauss can ice his ankle and take ibuprofen.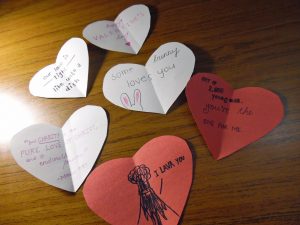 Other than all that we have been doing pretty well. Had some great, fun dinners with members. I probably ought to take more pictures with members, now that I think about it. I'm most likely going to be leaving this area in the next four weeks–or so President tells me.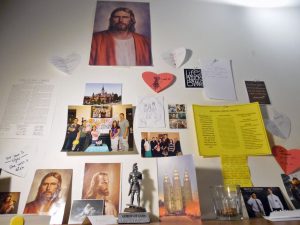 Highlight of the last 7 days:
A member who has been less active in the church for a while who actually had issues against the church has been worked on over time by the Lord. God works in mysterious ways, my friends. I don't know where it all started, but how I first got involved was by "coincidentally" knocking into her house, and her nanny answered and told us the situation with that members anger against the church. We answered some of her questions, got her information, and weren't able to get in contact again. Later on we got a text from the Relief Society President, saying that member had surgery and requested a blessing! So of course Elder Strauss and I went over there and did that! On her TV she was totally watching Studio C (which I recommend, look it up on YouTube.) After that, her NANNY ended up in the hospital and the member asked if we could go giver HER a blessing, too! Holy cow. Meanwhile, members of the relief society had been helping to babysit her 5 special needs children while both she and her nanny were down. Later, the member texts us about her situation, and asks if it'd be possible we come help her rake leaves. We raked alongside the nanny's two daughters, and then lo and behold, on Sunday, without us having asked or poked or prodded or even mentioned, The member Cabrielle showed up to church with one of her nanny's daughters. They were happy and smiling and interacted with other members of the church. What a beautiful miracle this has been! Sometimes God works on us through the difficult, humbling experiences, so do your best to learn from them my friends.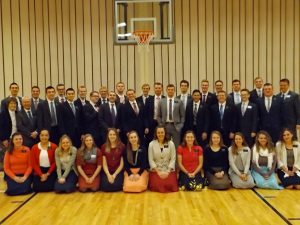 Super long email. Sorry.
I love you guys and hope you have a wonderful week!
Elder Breinholt