Hello everyone!
Once again, emailing on a Saturday. Last week of the transfer so that's how it goes. It's still weird to me, and all our investigators wanted to meet today and we had to tell them we couldn't…
but that's okay we'll see them soon.
Anyway, this week was great! We had some great lessons with members of the church present to be friends to the people we teach. The missionaries eventually will always leave, but the members can stay and help them feel comfortable and loved.
Angus is progressing toward baptism and is planning on coming to church again tomorrow and loved it last week. He's been reading in the Book of Mormon and believes it's true. I guess a movie came on on TV during the week and actually was talking all about how the Book of Mormon came to be and about the Nephites and Lamanites…. what the heck where did this movie come from?? He took this as a little push from God showing him the truthfulness of the book, which is awesome.
Sarah has been reading from the Book as well, but we were supposed to have a visit with her yesterday, and we arrived and she wasn't there, so we called, and it turns out she was having a very stressful day, forgot our appointment, drove to the woods and just started walking in the middle of nowhere. So when we called she had no idea how far out she was and we had to reschedule, but that's okay. x) Glad she is still solid and is reading and praying.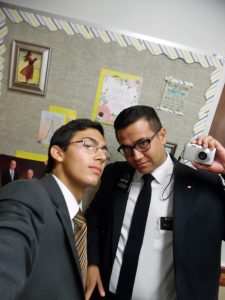 Just had a lesson with Latanya this morning, she accepted a copy of the Book of Mormon and her sister apparently used to read it to her years ago when her sister was meeting with the missionaries! How cool is that?? That's preparedness if I ever saw it.
For my friends and family who are confused why we focus so much on the Book of Mormon, part of it is because SO many people here already have and read and believe in the Bible, and so do we! But we are trying to add to that faith and knowledge they have, and we know the Book of Mormon comes from God, and that He has provided it as a second witness of Christ and His Gospel.
We got our transfer calls yesterday..
Elder Whitesides and I are staying in Battle Creek
Our district leader is leaving, and I am going to be the new district leader (AHHH HELP ME)
We are losing one of the cars, so we and the other Elders will be trading weekly… :/
I'm very excited for this change that's happening, and also a little nervous. I know that as I rely on God, not myself, that all will be well and we will see much success and this district won't go up in flames… x) (Proverbs 3: 5-6)
I love you all and hope you have a wonderful week! Thank you all for what you do for me and for others, because what you do for others really is service to God in the end.
Elder Breinholt
My Old District in Oscoda: