Hello Everyone!
Don't worry too much. It was just a warning… 🙂
Had a wonderful week. I made a Kool-Aid Pie for my district, and it was a little too sweet for some of them but hey, isn't that how it's supposed to be? 😉
The Wilsons had us over for dinner, along with the Bishop's family–The Petersons, and also the Lunds, the family of the ward clerk. There were so many pies. And an amazingly delicious sweet potato casserole. And Orange Rolls. And Turkey, and cheeseballs, and more pie, and stuffing, and gravy, and cake, and pie. The Sisters and Elder Liu and I were invited and we came and stuffed our faces. President Jacobsen sent out a text giving us the rules for Thanksgiving: Go out and find from 10:00 to 12:00, and then have a Happy Thanksgiving. So after the meal we hung out with the returned missionaries in the Wilson's house and played a bunch of games and had a blast.
We totally ran out of miles in our car, and in fact, we had to take in for a recall on Tuesday morning. So we did a lot of walking this week through the cold, but we managed and survived. This week it's ward again. My theory is that the only place where the weather is relatively constant must just be Puerto Rico.
I have loved learning about the Savior throughout my mission so far. I just hit the four month mark, and I feel my learning of God, the Gospel, and the Atonement, have grown exponentially and continue to do so with every new day and every new challenge. I did lose my copy of Jesus the Christ, but Sister Edwards gave me hers because she heads home in two months and doesnt want to pack it in her backs with her, and she just finished it a couple weeks ago. It's a little backwards because the sisters are actually trying pretty hard to take care of us, especially because we are two noobies who have no clue what we are doing.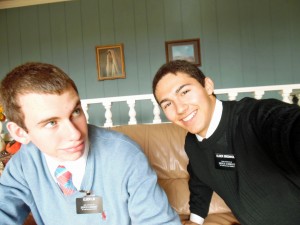 Things are well. We are teaching, we are learning, we are finding people who are prepared to learn more about Christ and about his teachings, and people who are not willing to accept new information. Be open to learning, my friends, and always lean unto God for the truth, not just a book. Not the Bible. Not the Book of Mormon. Lean unto God, and he will tell you whether anything you read or learn is true. I testify that both the Bible and the Book of Mormon contain the word of God. We become better people by reading them, understanding them, and then applying their teachings. Faith is not passive. We must act, and we must repent, and these are two of the first steps to finding true happiness. A saint is not someone who is perfect. A saint is someone who understands the need for repentance, and repents constantly. A saint is someone striving to one day be like Christ, but knows that they are not quite yet there. Lean on Christ, and His Atonement, and one day, we will know him, we will recognize him as our Savior, because we will be like Him, and I bear this testimony in the name of Jesus Christ, amen.
I love you all and I hope you had a Happy Thanksgiving. Looking forward to Christmas? Some people here have had lights up since Halloween. Oh and I was pulled over because my taillights weren't on, and I didn't notice that Elder Liu had turned on a weird setting in the car. The problem is that the car is more of a spaceship than a car.
Hope I didn't miss anything.
Love,
Elder Breinholt 🙂