Hello Everyone!
I was so very excited to let you all know how we were planning on the best P-Day ever today, but we just BARELY received the call that everything got cancelled. I will explain:
Near the end of last week, our vehicle coordinator called asking how many miles were on our car, and we told him, and he told us he has a brand new 2016 Dark Blue Ford Fusion waiting for us in Lansing and to come pick it up on Monday! So we had all of these awesome plans for things we were going to stop and take pictures at on 3 hour trip down there. We were even going to have lunch with some other Elders, and dinner with a family in Saginaw on the way back. But something happened, and we got called and told that the car switch is cancelled for right now and they'll get back to us. :/
I guess things don't always go as you plan! *eye twitches*
Anyway! There were some great things that happened this week. On Wednesday, we were out knocking on doors with Collin (who's heading to the St. George Mission) and the snow and wind were getting progressively worse until we received a call from Elder Johnson with a message from President Jacobsen saying all missionaries are to return to their apartments. Indeed it was a dangerous trip back because it had become a blizzard, but we made it safely.
SO, Thursday we decided to get out and find by shoveling people's driveways! Some people were very grateful and even offered us money which we did not accept. No one was particularly interested in learning from us but strong seeds were planted through service.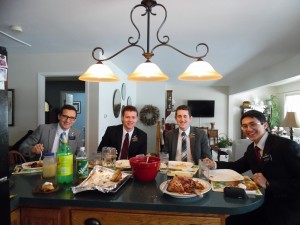 Had dinner with former investigators from a year ago on Saturday. They LOVE missionaries, and gave us a bunch of food to take home. They want us to come back for dinner again soon and teach a lesson. 🙂
Last thing – this was miraculous. During church yesterday, a man named called the church asking if it would be able to help him pay for his wife's medication for seizures. The member who talked to him on the phone willingly met him at Rite-Aid and paid for the medication, but then began to speak to the man about his spiritual needs, too, and talked about the missionaries. Then, the member called us and asked us to meet them there, so we did, and Brother Byard invited him to learn from us and gave him a Book of Mormon. So we scheduled with Ryan for Thursday; however, after we got home and had lunch, Ryan called us and asked us to come immediately, and so we did, and we prayed, he talked to us, he cried, he asked why God would allow their financial problems to come and to affect his children, and we taught him why and about the Restoration of the Gospel. He says he will read the Book of Mormon and be at church with his daughter on Sunday! I truly hope and pray things will continue to go well for these people.
This turned into a pretty long email, but just know that God does work miracles, whether we notice them or not, and whether we choose to believe it is merely coincidence. Know that I no longer believe in coincidence. I see the blessings he gives me too many times every single day to believe otherwise.
Love you all, and hope you have a great week. 🙂
Elder Breinholt