So there are no new pictures this week (bummer), but this is what Tyler wrote: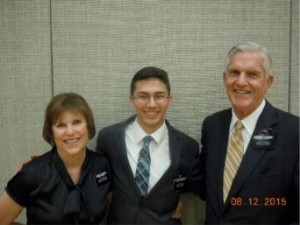 It's been somewhat of a difficult week, but hey, if things were too easy it'd be boring, right…?
I don't have much time but I wanted to tell about trade-offs which happened on Friday. So Thursday night, Elder Yadon and I met with the zone leaders, Elder Marley and Elder Alley at Three Rivers at about 8:30. The plan was for Elder Alley to go with Elder Yadon back to Sturgis, while I was to head with Elder Marley to Kalamazoo; however, the zone leaders had forgotten that Elder Yadon does not have his driving privileges, and Elder Alley had just lost his driving privileges the day before for medical reasons. SO, we had to switch everything up, and I had to go back to Sturgis with Elder Alley and would have to be in charge of the Sturgis area for all of the next day. I was all kinds of nervous, but what ended up happening is that I had the opportunity to learn more in 24 hours than I have through most years of my life. I had to drive, manage the phone, plan out the day, set goals, lead studies, and went doorknocking for a few hours and found two new potential investigators; all along the way, Elder Alley, who is a very great and experienced missionary, guided me without doing anything for me, and helped me know what I was doing right and what I and my companion could improve upon. He cleared up so many of the questions that I had which I was not getting answers for regarding missionary work, and I just want to be the best missionary I can be for the Lord. I have been conducting frequent prayer between me and my companion now, and although he doesn't agree with it, I know that when we do pray we are more successful and the Spirit is closer to my heart.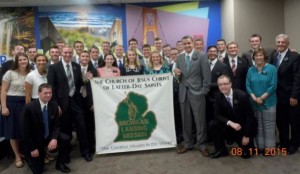 Heavenly Father is absolutely testing my strength, both physically and mentally, and I'm very grateful for it. I've encountered quite a few people who tell me right to my face they believe I'm going to hell and explain why. They explain how I am being deceived, and how as a "cradle Mormon" I wouldn't know otherwise, and I am blind to the truth.
This is what has helped my testimony grow more than it ever has before, faster than I've ever known. I know with every fiber of my being that we are not deceived, we are lead by a true and living prophet of God, who receives direct revelation from the Lord and hearkens unto it, and therefore we are truly lead by Jesus Christ Himself. This is God's kingdom on earth, and these are the last days before His Second Coming. There is not much more I can say at this time, as per the fact that I do need to get going for my preparations for this week of missionary work, but know that God loves all of His children, and desires them to know the truth. That is why I am here in Michigan, to give that truth to those who are willing to receive it, and to receive the blessings thereof. Always remember that knowledge is a blessing, for without it, life seems to be for naught. Primary children know their purpose, they know where they came from, who God is and that he loves them, and they know where they want to go. So I am glad to be a "cradle Mormon," because these things I know and testify of in the name of Jesus Christ, amen. 🙂