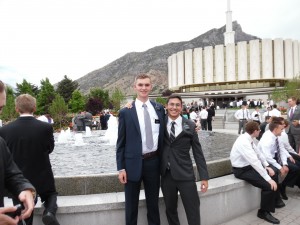 These are some words from Tyler's first letter to the family and some pictures that we would like to share;
The MTC has been so great! My companion's name is Elder Janes and he's really awesome and we go together well. Elder Janes is tall, he is 6 feet 3 inches, It's become apparent to me that the choosing of companionships is done through prayer and looking for people who compliment each other well.
I have come very close with my MTC district already as, through learning of Christ and trying hard to learn doctrine and how to help and invite others to come unto Christ, anyone would.
The classroom experiences here are not at all what I expected.  I never knew that there were certain ways and eternal laws that pertain to our mortal existence regarding the learning and growing our testimonies here on the earth, or at least I had never thought so deeply about it.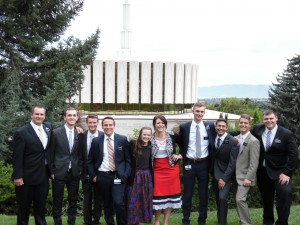 I have been developing a serious love for everyone in my district, and even for those roleplay investigators I have had the opportunity to teach.  We call each other brothers and sisters in this church, but it's amazing how we can actually feel and understand our true brotherhood and sisterhood and feel love for each other.  I pray more here than I have ever prayed before in my life, because my companion and I learned quickly that without prayer in EVERY SINGLE THING we do, we are choosing to go it alone and leave God out of the picture.  Sometimes we simply forget, but we have taken upon us a covenant at baptism which we renew at sacrament meeting to always remember the Lord.  One thing I have done to improve my prayers is to pray for charity, which I have never really tried before.  I know that heavenly father answers our prayers, every single one, and he has helped me to have charity, the true love of Christ, for these my brothers and sisters.  I am not as good at it as He is, but I am trying.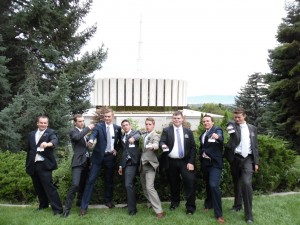 Elder Breinholt