Hello everyone!
This is gonna be a short one because I'm finna go home and get to bed,
but it's been a great week of Christmas!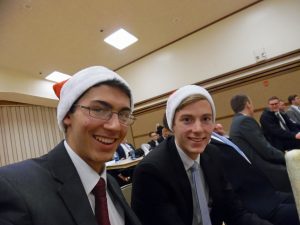 We had P-Day on Monday, and a Half Mission P-Day on Wednesday, and a full day P-Day on Saturday, and a Full P-Day on Christmas! It's been fun, but I'm ready to work and we did have a great day today. We would have emailed in the morning but the libraries are still closed.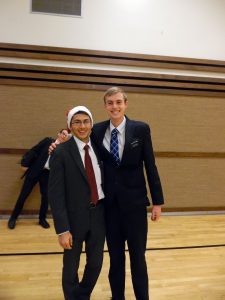 Half mission P-Day was a blast, and if you have Google Drive or at least have a google account, you can watch this video I'll be uploading of what my former companion, Elder Liu, and I did in the talent show. x) It was awesome.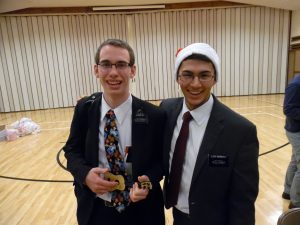 We spent the evening in the Gleasons home on Saturday and had a wonderful dinner there and a Christmas message from the mother to her kids. On Sunday we sang in the choir at church and it turned out way better than any practice we had so that was miraculous! We hung out at the Ogilvies with their kids and helped them get some of their Christmas toys working (such as drones.) And at night we ate at the Daniels with a bunch of returned missionary kids! So it's been a blast, but I'm ready to get back to work! 🙂
Last night we were praying as to where we need to go searching today, and of course Heavenly Father led us to the exact street where we needed to find a man who has felt very depressed the last few days because of the threats of divorce happening in his marriage, due to affairs his wife has been having… And he has been pleading for prayers of others and help from God, and like he said, "Then you two show up at my door."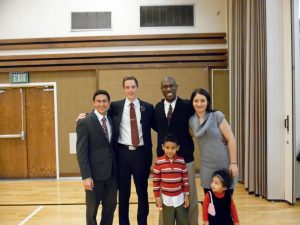 Miracles do happen my friends, every single day, whether you choose to notice and accept them or not. God is working in your life and wants for you to be happy, even if it doesn't seem like it, or you don't know how to recognize it. I promise you that.
I love you all and hope you have a wonderful week! I'll likely be emailing again on Saturday but we shall see!
Love,
Elder Breinholt
Tiwi Song