Hello Everyone!
This week was a really confusing week for me. Oh and by the way we are emailing today because next week is the beginning of a new transfer, so our P-Day is today instead.
I totally thought I was going to transfer! Why? Because I got a letter from the mission President saying I would like my new district, and that my endorsement would be done by the time I arrive, but the transfer call came in yesterday morning and I am staying, and I was flabbergasted.
On top of that the Sisters in our district went missing in action during transfer calls, and we were sent by the mission President to check on them. Turned out they were in a lesson with their phone on silent. *facepalm*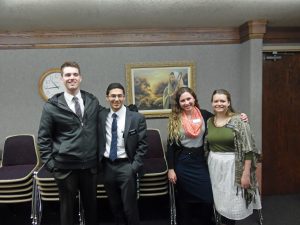 This week was a short week, but we ended up teaching 15 lessons and picked up a bunch of awesome new people. Quite a few of them are planning on being at church so we're hoping and praying it works out.
We've been praying for our investigator, James, to be able to come to church regularly but also be able to support himself and his wife. He took the leap of faith to ask his boss to stop having him work Sundays, even though he knew he'd no longer have sufficient funds to provide. He knew God would provide, and yesterday he called us to let us know a miracle happened! He got a full time job at a factory that will allow him to do more than provide for their needs, and they will be able to come to church every Sunday, as James says, "for eternity." x) James and his wife Teresa are such awesome people and I'm grateful for everyone who has been praying for them. 🙂
Things have been going very well, and we know that as you draw closer to God, the Adversary tries to pull you away, so yes, there have been some trials that we have been facing, and It's been difficult. I'm trying to be the best example I can, but still my own diligence or the diligence of others falls. Know this, brothers and sisters, that your choices and your obedience to what you know is right does not only affect you. I say this not to chastise, but rather to give another reason to be the best that you can be, not just for you, but for those you love.
Matthew 25: 40 "And the King shall answer and say unto them, Verily I say unto you, Inasmuch as ye have done it unto one of the least of these my brethren, ye have done it unto me."
I love you all! Have a wonderful week! Don't be afraid to shoot me an email whenever!
Elder Breinholt