Hello Everyone!
Elder McGuire and I had a marvelous week last week and it was a ton of fun as well. It feels like I have known him for years but I have known him about 7 and 1/2 days. We had the opportunity to teach 5 different investigator lessons last week including one to a family that we picked up. A single mother and her three kids and her two parents. We were supposed to go back again yesterday but the meeting after our zone p-day yesterday went waaay too long so we had to cancel the appointment :/ Hopefully we will be able to come by this evening.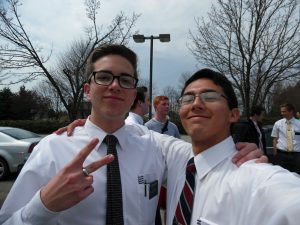 Elder McGuire is a solid missionary and I'm not sure how much i already mentioned about him but he has been out a transfer longer than me and he is definitely a good teacher and is great at continuing to move lessons forward and not allow there to be too much distraction or getting off on a tangent. A lesson we had last week with Mary who had decided against being baptized into this church caused her to rethink her decision. We taught alongside a couple of members, and the Spirit was felt strongly and there were tears shed, and Mary feels now that she knows this church belongs to God and that God would want her to be baptized by His proper authority. If you can, please pray for her regarding these things.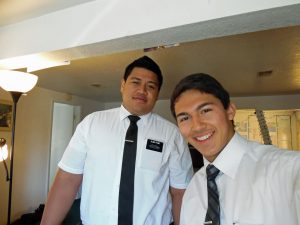 Had a bunch of other lessons and we taught in unity and with the spirit as much as was possible! Sometimes it's hard in chaotic situations within some households, but without the Spirit what is the point? The Spirit is who testifies to their hearts and teaches, not us.
Something really awesome happened on Sunday–Dawna and Cory came to church with their two kids! We were so happy to see them there! They were fellowshipped by the members and plan on being back this Sunday as well. It's so great to see the progress they have made so far. Dawna is a member and Cory is not, but he is open to the idea of being baptized.
Yesterday was zone pday and it was extremely fun but I am super sore all over because I haven't been that active in quite a while. We played a lot capture the flag and sand volleyball and had fun laughing and talking together and Elder Boyd brought suicide brownies for everyone! Great day just wish we could have gotten home sooner… ;P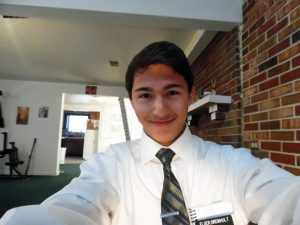 Hope you all have a wonderful week and I love you all and will talk with you later!
Happy Mothers' Day on Sunday thank you for being amazing mothers!
Elder Breinholt