I kind of said it last week but once again, Happy Mothers Day to all of you mothers! One point brought up in church yesterday was that Eve was called a mother by God before she even bore children on earth. So really, to all of you women out there, thanks for being women. I hear it ain't easy.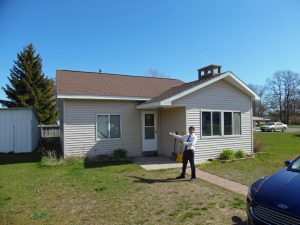 This week was great! We are working with Angie and her children to help them progress toward baptism. The next step is most likely going to be the Word of Wisdom. They love us coming by and whenever we give Angie something to read she is intent on reading it right then and there. She is ready and wanting to learn. It's such a blessing to be a part of the progress of other individuals on their path toward God. A change begins to happen, mostly seen in their eyes, with every small step they take. With Angie and her kids, we usually will shoot some hoops with them after we are done with the lesson. The kids make us look bad, because we can't shoot for our lives.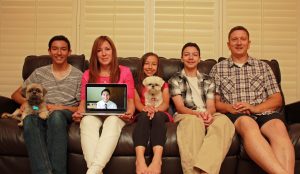 Yesterday I had the opportunity to skype my family! We did it from the church inside the clerks office. Only one computer so we took turns. My brother Ethan apparently started a YouTube channel with the neigborhood friends called FAE Unlimited. You should check it out, it looks pretty awesome. Everyone is doing well and I am grateful to hear it. 🙂 At the end of the call my mom asked if we could all get a picture, so they set up the camera and the family sat down on the couch and my mom held the laptop with me on it so that is what that picture is all about! 🙂 I think it's pretty awesome.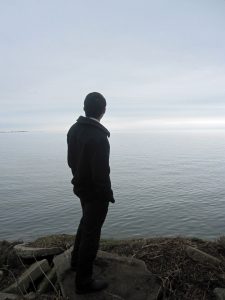 I got to meet Elder McGuire's family also, and that was fun. They are pretty cool and talented! Very smart intellectual kids. Elder McGuire is the oldest in his family, like me. I practiced a little bit of Spanish with his brother Daniel, who's taking Spanish classes.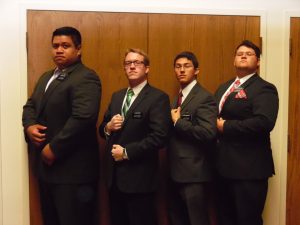 I love you all and hope you have a marvelous week! Keep Angie and her family in your prayers.
Elder Breinholt
1. The House
2. The District before Elder Hudson left
3. & 4. Lake Huron
5. The whole family! 🙂